YOUTH OUTDOOR FEST
VETERANS FREEDOM PARK [LA CROSSE]
Event info
Details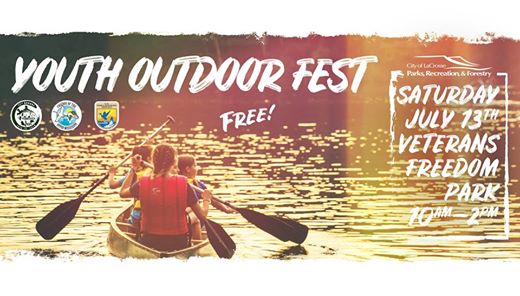 The 11th annual Youth Outdoor Fest, with the City of La Crosse Parks, Recreation and Forestry Department, U.S. Fish and Wildlife Service, and Friends of the Upper Mississippi.
Saturday July 13, 2019 from 10:00 a.m. to 2:00 p.m. at Veterans Freedom Park (West Copeland Park) located at 200 Clinton Street, La Crosse, Wisconsin. Help Midwest Fisheries Center staff celebrate more than a decade of outdoor learning with an array of free, hands-on activities that focus on the intrinsic value of the Seven Rivers Region.
There will be a zip line, presentations, entertainment, interactive activities, food and more. Event highlights include reptiles and a touch tank of fish, dragon boat and pontoon rides, fly fishing, archery, dog demonstrations, geocaching, invertebrate investigations, storytelling and information about kayaking, camping and hiking.
Feature image credit: Youth Outdoor Fest Facebook page
Buy tickets