BRITTANY'S GARDEN FRESH VEGGIE SALAD RECIPE
There's really nothing better than garden fresh veggies! My husband loves to garden, and I am grateful to reap the benefits! I eat 4 cups of vegetables every day, so I have a special recipe that I use to add a little extra flavor so I don't get bored! If you don't have your own garden, you can certainly buy these veggies at the grocery store and create the same recipe (or your own variation)!
Instructions:
I use a Pyrex glass bowl, with a lid for freshness, that holds 7 cups. You could use any size bowl you prefer.
Mix the following in the bowl (or any veggies you prefer): Pea pods, sliced cucumbers, sliced peppers (I use a mixture of red, yellow, and orange peppers), sliced in half cherry tomatoes, and half a can of black olives for a healthy fat addition (sometimes I'll do green olives, which are also a healthy fat. Olives are a great healthy fat, however high in sodium. Good in moderation!). Nutrition Facts about olives: Click Here!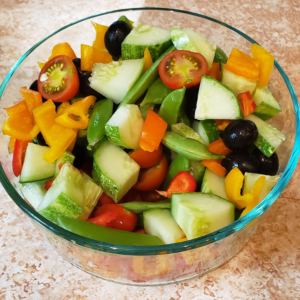 Add 1 table spoon of Wishbone Fat Free Italian Dressing. It's also Gluten Free for those with a gluten intolerance! (I use 1 Table spoon for the whole bowl, but you can use more if you want)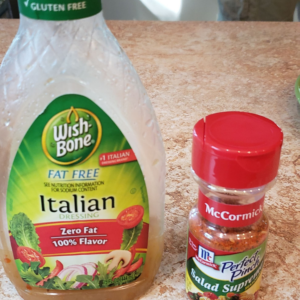 Sprinkle Mc Cormick Perfect Pinch Salad Supreme over the top of the veggies (I don't use much because it's actually quite strong, but you can use as much as you want for your personal flavor preference).
Mix the bowl to cover all veggies in the dressing, and sprinkle Salad Supreme one last time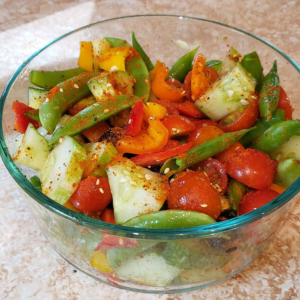 And you're done! You have a delicious, fresh, vegetable salad with a little zest and flavor!
---