POST MALONE TO START WORLD BEER PONG LEAGUE
Post Malone has publicly declared his love for beer pong, and for Bud Light. In March, he helped host a star-studded virtual beer pong tournament that included guests like Machine Gun Kelly and Rob Gronkowski. All proceeds were donated to coronavirus relief efforts. Post Malone likes beer pong so much, according to Delish.com, he's filed a trademark for the name "World Pong League" and he's looking to create a legitimate competitive league of beer pong players!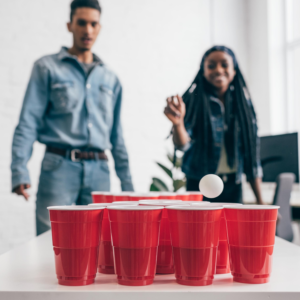 Posty will use his brand for official tournaments, competitions, events, and exhibitions. And of course there will be merch cause, money! Glassware, plastic clips, game tables, cup racks, pong balls, and casual sportswear.
The plans for his world beer pong league are in the early stages, so there isn't much information out there. But if Post Malone is behind it, it's guaranteed for success…and fun!
Cover Photo Image Credit: Ben Hider/Invision/AP
---