LA CROSSE COUNTY FOR GOODNESS SAKE PROJECT DONATION!
Written by Ballzer on December 17, 2020
La Crosse County's "For Goodness Sake Project" is a program through the Health and Human Services Department. For the holidays, members of our community, businesses, and organizations sponsor individuals or families. You can also donate cash or gift cards to be used for those that are not sponsored at the end of the project.
Earlier this month, Mid-West Family La Crosse hosted a few Zoom with Santa events to raise money for La Crosse County's "For Goodness Sake Project," specifically aiming to help children in Foster Care.
Thanks to  our sponsors, Jolivette Family Farms and Builders Flooring, Zcare teamed up to bring the total donation to $1,000!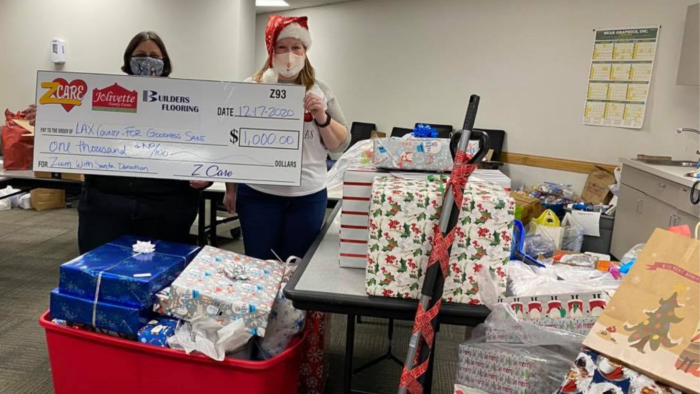 The "For Goodness Sake Project" is a year round program that is able to serve many community members in need. They're always seeking donations of hygiene products (especially hotel sized), gift cards, and cash to purchase needed items. If you're able to help, too, you can email Project Coordinator, Lindsey: lschwarz@lacrossecounty.org or call: 608-785-5841 for more information.
Lindsey brought me to the "Workshop" to see all the amazing donations they're currently sorting through for distribution. It was really cool to see all the things our community brought together! There were donations from businesses, churches, and lots of other groups coming together for a single goal. Jean from our sister station, 95.7 The Rock's Rock Foundation, had her family make up individual bags of hygiene products that will help a tremendous amount of people in our community! All of the books were from the B&N book drive we told you about a few weeks ago.
---