LA CROSSE JAYCEES SHOES WITH HEART SHOE DRIVE FUNDRAISER
Written by Ballzer on April 6, 2021
JCI La Crosse Jaycees is conducting a Shoes with Heart shoe drive fundraiser through May 30th, 2021 to raise funds for their organization. We spoke with Chapter President Amanda Jones to see how to donate shoes and learn how the Jaycees will raise funds through our community's donations.
JCI La Crosse Jaycees will earn funds based on the total weight of the pairs of gently worn, used and new shoes collected, as Funds2Orgs will issue a check for the collected shoes. Those dollars will benefit our local chapter and upcoming projects within the community. Anyone can help by donating gently worn, used and new shoes at one of our Barrel Donation sites (listed below) or Drive Through Shoe Drives at the Radisson Hotel Parking lot Saturdays, through May 8, from 11-3.
All donated shoes will then be redistributed throughout the Funds2Orgs network of micro-enterprise (small business) partners. Funds2Orgs works with micro-entrepreneurs in helping them create, maintain and grow small businesses in developing countries where economic opportunity and jobs are limited. Proceeds from the sales of the shoes collected in shoe drive fundraisers are used to feed, clothe and house their families. One budding entrepreneur in Haiti even earned enough to send to her son to law school.
"We are excited about our shoe drive," said Amanda Jones, 2021 Chapter President. "We know that most people have extra shoes in their closets they would like to donate. By doing so, we raise money to benefit local projects and have the chance to help families in developing nations who need economic opportunities. It's a win-win for everyone."
By donating gently worn, used and new shoes to the Shoes with Heart program, the shoes will be given a second chance and make a difference in people's lives around the world.
Donation Sites:
(please contact each location for individual hours of operation and Covid-19 procedures)
Biolife Plasma – Onalaska
Children's Tree House – Onalaska
Citizens State Bank – La Crosse and Onalaska
Coulee Bank – Holmen, Onalaska, and La Crosse
Crown Beverage Packaging – La Crosse
Heavenly Crossroads Salon – Holmen and La Crosse
Hydrite Chemical – La Crosse
IC Systems – Onalaska
Johnson Block and Co. – La Crosse
La Crosse Country Club – La Crosse
La Crosse Sign Group – La Crosse
Sitara Salon and Spa – La Crosse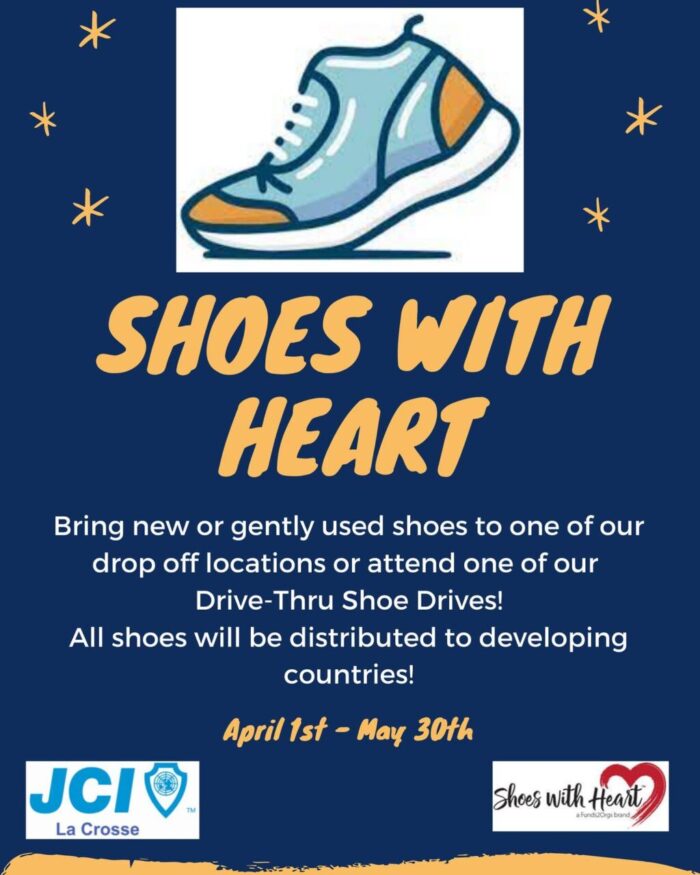 ---