NO RUN FUN RUN FUNDRAISER FOR LAX LIBRARY'S CREATIVE SPACE AND TOOL LIBRARY
Written by Ballzer on August 4, 2022
The La Crosse Public Library is hosting its first ever No Run Fun Run Fundraiser. (Yes, you read that right. No Running!) They're putting a spin on the traditional fun run fundraiser to make it more accessible for all ages and abilities. This free community event will have activities for all ages, live music and food trucks.
We checked in with Adult Programming and Volunteer Coordinator, Heather Miller, to get all the fun deets:
the No Run Fun run will be held in the Main Library Parking Lot from 4:00 – 7:00 p.m. on August 20th.
Registered "runners" will experience all the fun of a run, with a commemorative t-shirt and a finish line celebration—all without breaking a sweat!
All proceeds from the event will benefit the library's new Creation Space and Tool Library, which will give community members access to tools, technology, and training that will enable them to collaborate, experiment, and create together.
Register by August 9th to donate $25.00 HERE and receive a "No Run Fun Run" t-shirt that will be available to pick up at the event.
RSVP on Facebook HERE.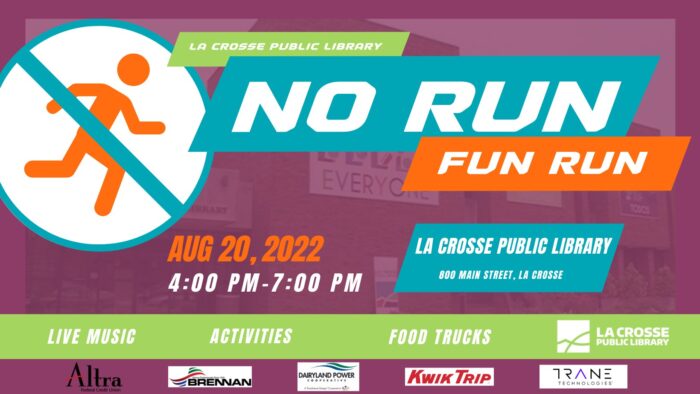 ---