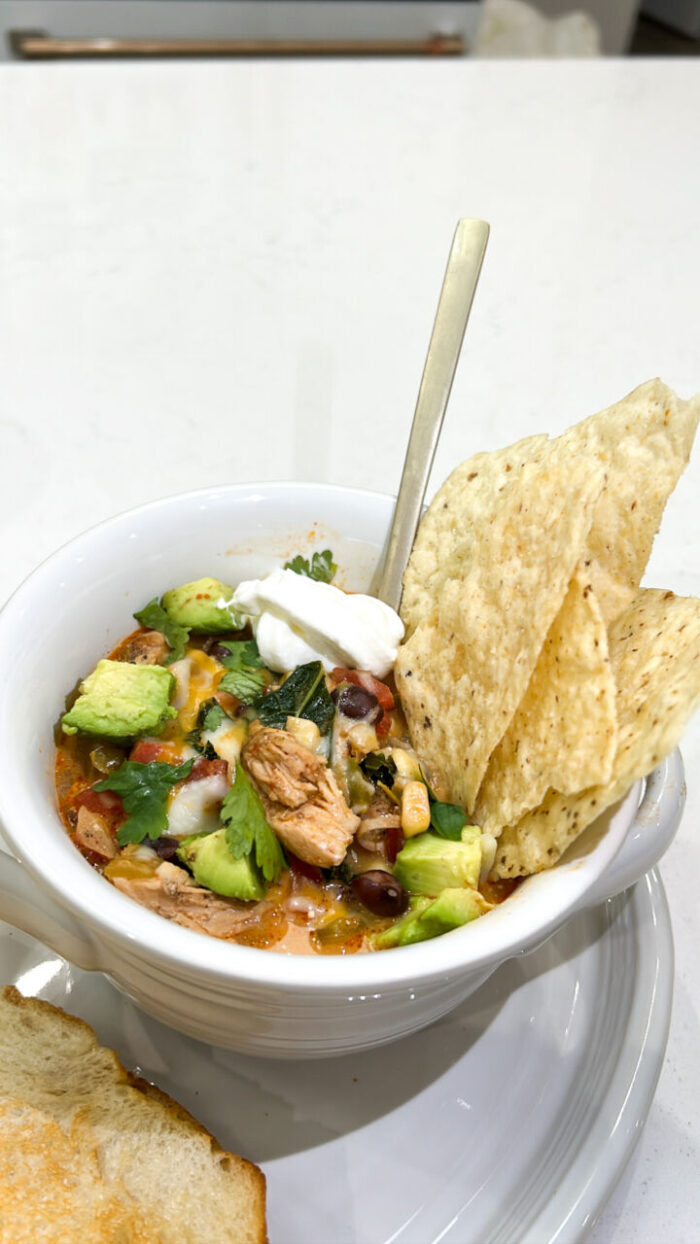 It's officially soup season and I am sharing two of my favorite chili recipes of all time? It's the perfect time of the year as the temps cool down to have a warm bowl of chili after a long day! I have been making these recipes over and over again. The first recipe I'm sharing is my dad's famous chili and one of my all-time favorites. The second is a creamy chicken chili and it's the best soup I have ever had. You are gonna want to make these both over and over all winter long!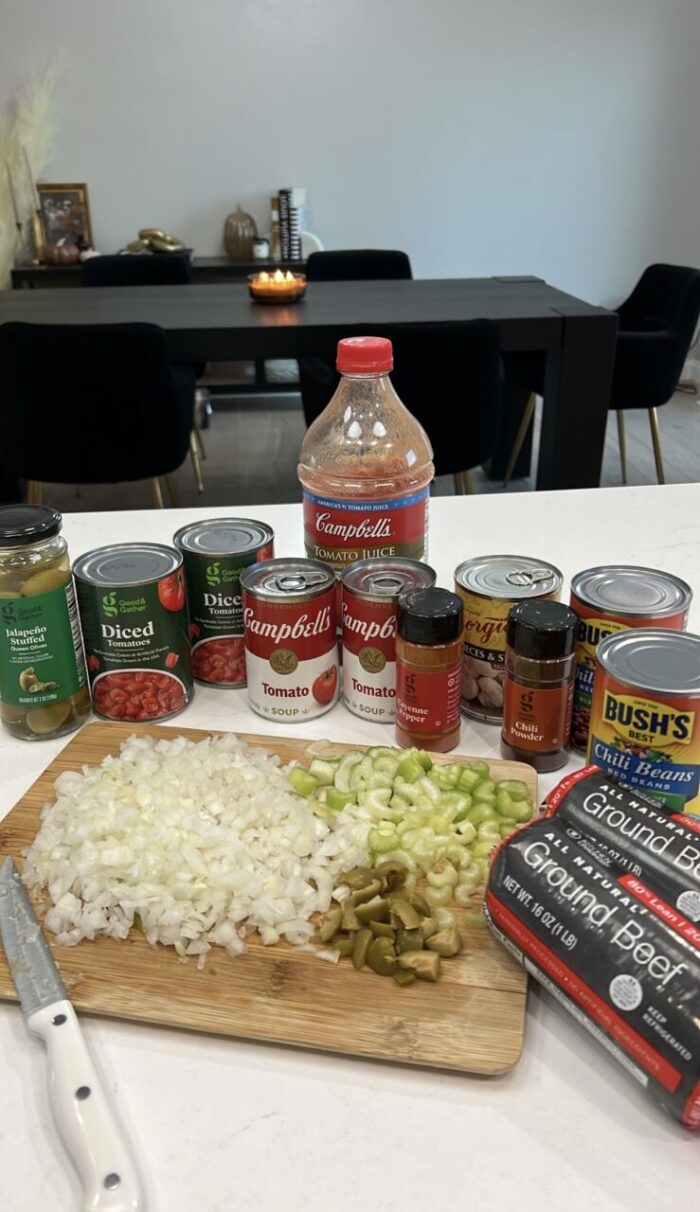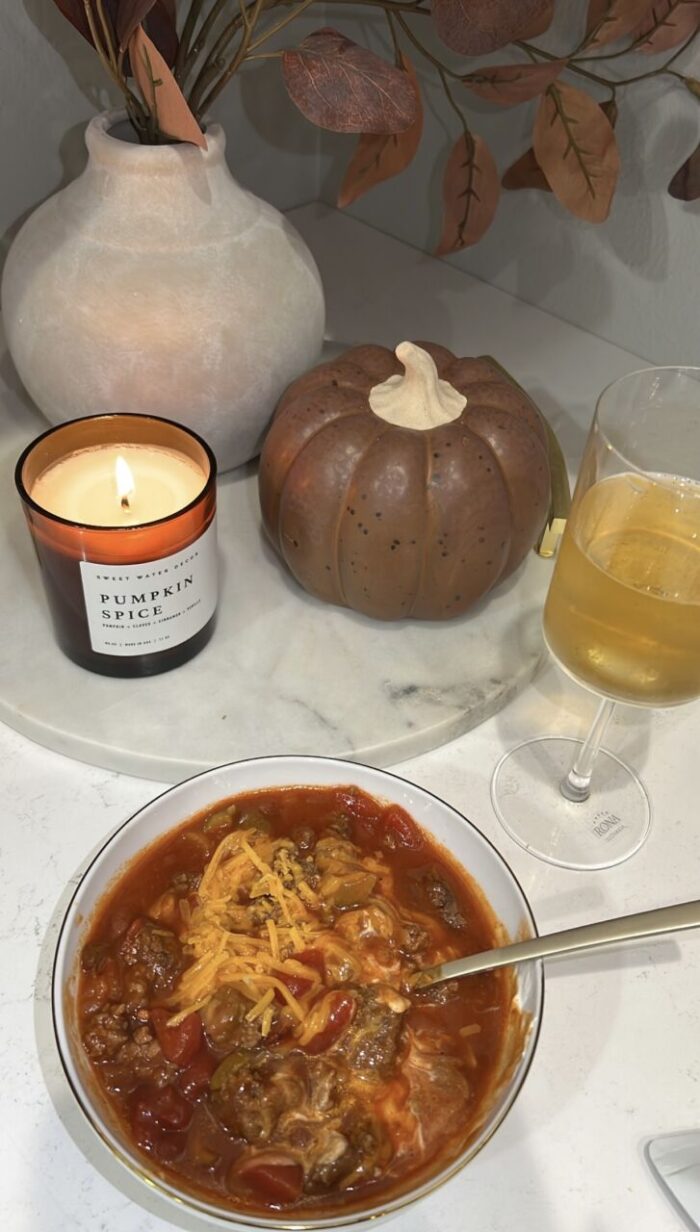 Dad's Famous Chili-
(Recipe by my Dad and my favorite of all time)
INGREDIENTS-
1 1/2 lbs Ground Beef
1 medium yellow onion
2 stalks celery
6 jalapeño stuffed green onion
2 cans of tomato soup
2 cans diced tomato
2 cans of chili powder
1 can mushroom (optional)
1/3 large can of tomato juice
2 tsp chili powder
2 tbsp sugar
1/2 tsp pepper
Pinch of salt
Dash of cayenne pepper (depending on how spicy you want it)
Cheese to garnish with
Sour cream or crackers (optional)
DIRECTIONS-
1. Dice celery, onion, and stuffed jalapeño green olives.
2. Brown hamburger and sautee onion, celery, and stuffed jalapeño green olives and drain.
3. Add all ingredients to a large pot and simmer on low for an hour! Stir occasionally and enjoy?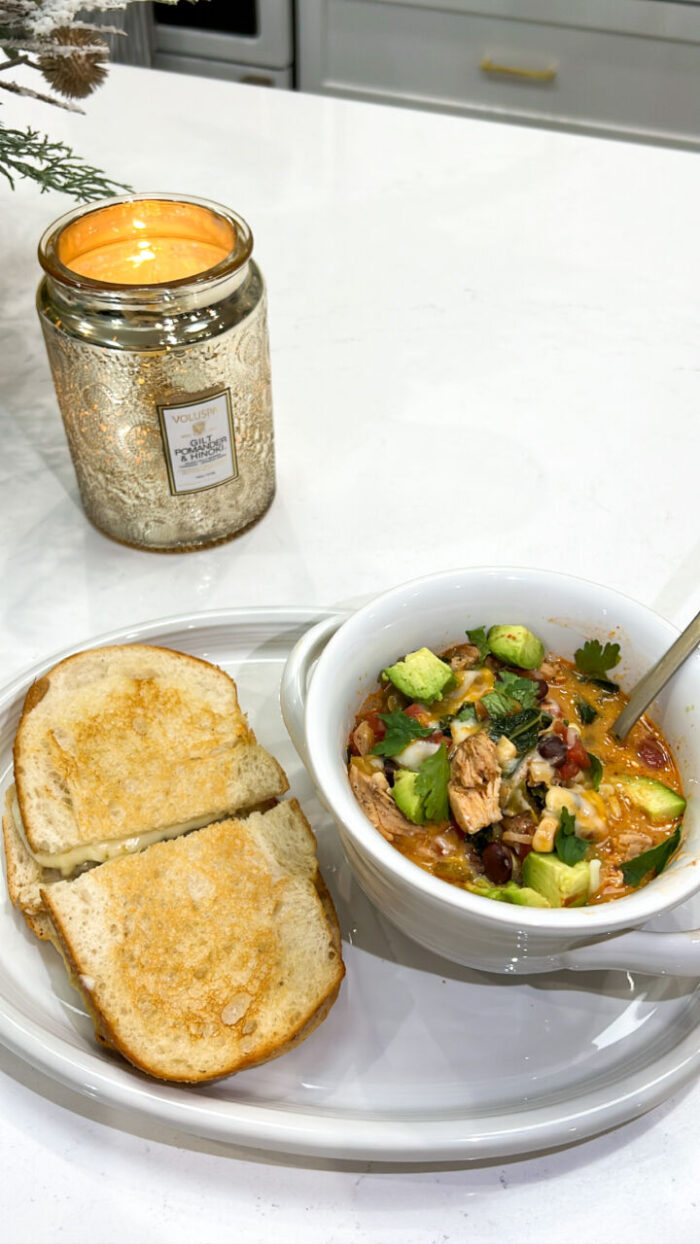 BROCCYOURBODY CREAMY CHICKEN CHILI-
(Recipe from Carissa Stanton- Broccyourbody on instagram)
INGREDIENTS-
2 tbsp olive oil
1 1/2 Ibs chicken breasts
1 15 oz can of black beans, drained
2 10 oz cans diced fire-roasted tomatoes with green chilies
1 cup frozen corn
1 white onion, diced
4 cloves garlic, minced
2-3 cups of chicken broth
4 oz cream cheese
1-2 cups kale, de-stemmed
2 tsp chili powder
1 tsp paprika
1 tsp oregano
1 tsp cumin
salt and pepper to taste
Toppings-
shredded cheese
green onion
cilantro
avocado
sour cream
tortilla chips
DIRECTIONS-
Season chicken breasts with salt and pepper.
Add a drizzle of olive oil to a pan over medium heat and cook chicken for five minutes on each side. She says not to worry about the chicken being all the way cooked through because it will cook in the chili later.
Remove chicken and set aside to shred.
In the same pot add onion and minced garlic and sautee for 3-4 minutes. Add in the frozen corn and sauté for 2 minutes or until it's softened.
Add the shredded chicken, beans, tomatoes, green chilies, cream cheese, chicken broth, and seasonings. Bring the heat to high and bring it to a boil. Reduce heat to low cover it and let it simmer for 20-30 minutes! Stir in the kale and top with the delicious toppings. Enjoy!
---