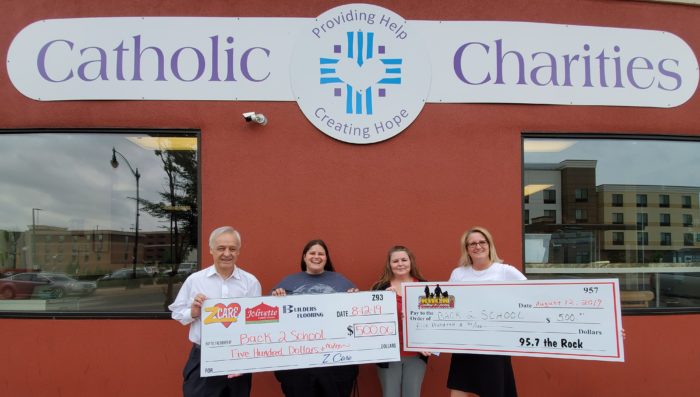 Zcare and 95.7 The Rock's Rock Foundation both made donations at Catholic Charities today to help with the big Back 2 School Drive!
Mid-West Family La Crosse teamed up with Catholic Charities, Boys & Girls Clubs of Greater La Crosse, The Salvation Army of La Crosse County, School District of La Crosse, La Crosse County Health Department to provide school supplies for families! Thanks to all of our awesome listeners for your donations!
You can follow Back2School on Facebook for more info and updates HERE. Back2School with Mid-West Family La Crosse is sponsored in part by: Paul's Heating and Air Conditioning, Century 21 Affiliated, JF Brennan, and Morrie's Volkswagen La Crosse.
Remaining Back to School Events:
* La Crosse Center Expo – August 14th (8:00am-6:00pm)
* Mathy BGC Back to School Fair – August 22nd (4:00-7:00pm)
The U.S. Department of Education says it costs $785, on average, to send a kid to school. According to a new study, 96% of US teachers personally pay for their students' school supplies! You can find more info HERE.
---