Shaundel Spivey is the Co-Founder and President of the local non profit organization, Black Leaders Acquiring Collective Knowledge. They're organizing numerous events in our community this weekend to celebrate Juneteeth. (Find full details and links below) Learn more about why we celebrate Juneteenth and all the events planned this weekend:

Juneteenth Celebration Social distance style
RSVP on Facebook HERE and grab full details HERE
Friday, June 19, 2020 6:30 p.m.
Just Mercy- FREE SHOWING
Rivoli Theatre 117 N. 4th St., La Crosse, WI

COVID-19 precautions
Wear a mask (we will be providing some as well)
We will wipe down seats and have hand sanitizer at the door
We will be social distancing in the Movie theater
Saturday June 20, 2020 -Series of events
Event 1- Talk Back Movie discussion– Noon – 1:00 p.m.
Join us as we facilitate a discussion about the movie Just Mercy
Virtual Zoom- Register HERE
Event 2- Enduring Families Project Self-Guided Tour– 2:00 p.m- 4:30p.m
This will be a self-guided tour of historically significant sites and people in La Crosse, with actors along the route who will portray African-Americans from La Crosse's past.
Step 1 Come to the Black River Beach house to get a map and instructions
Step 2 Drive to the locations and listen to the stories HERE
Join the Juneteenth Motorcade Celebration-
5:00p.m at Poage Park
Meet us at Poage Park as we drive through an already planned route to celebrate the Liberation of Black people in America.
Sunday June 21, 2020 4:45p.m- 8:00p.m
Zoom Juneteenth Celebration Virtual Zoom- Register HERE
Program starts at 4:45p.m
Live DJ starting at 6:00p.m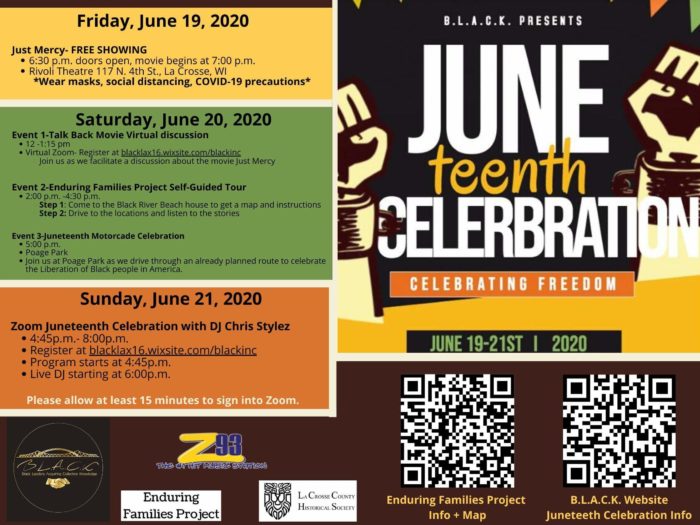 Feature image credit: Enduring Families
---