FOOD ENTHUSIAST BEN GULLETT SHARES EASY RECIPES FOR NATIONAL CHICKEN MONTH
Written by Ballzer on September 17, 2021
September is National Chicken Month! Since we love food and easy recipes, we're down to celebrate! We caught up with our friend, Food Enthusiast, and Home Chef, Ben Gullett to get some great ideas:
Southern Recipe Small Batch's Pork Rind Chicken Nuggets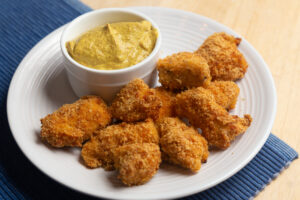 Ingredients:
Directions:
Preheat oven to 375°F
Whisk 3 eggs, add all spices and mix well.
Add chicken pieces to mix and stir.
Coat chicken pieces in crushed pork rinds. Place on baking sheet.
Bake for 15-20 minutes.
Expresco's Jalapeño Popper Chicken Skewers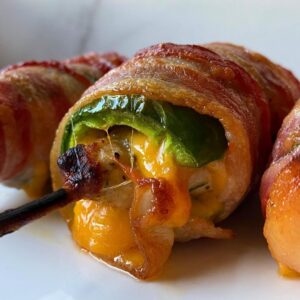 Ingredients:
1 pack of Expresco Chicken Skewers
3 large jalapeños
1 pack of sliced cheddar cheese
1 pack of bacon
Directions:
Preheat the oven or fire up the grill to 375ºF
Slice the stems and tips off the large jalapeños, slice in half and scoop out the seeds.
Wrap an Expresco Chicken Skewer in a slice of cheddar cheese, cover with the jalapeño, and wrap in bacon.
Bake for 20 minutes, then broil until the bacon is crispy or throw on the grill and cook until desired level of crispness. Serve with ranch.
---