Melissa Rivers is probably best known as a creator of the modern "Red Carpet" event brand through her many interviews and appearances as a co-host on the E! Television and TV Guide networks, including the globally recognized and iconic, Fashion Police. She's also an award-winning fashion and pop-culture host, a reality-TV star, an actress, and executive producer. She's the New York Times bestselling author of multiple books, an accomplished speaker and lecturer, and a dedicated and vocal philanthropist and advocate. We caught up with Melissa to chat about her new "hyper reality" book, Lies My Mother Told Me: Tall Tales from a Short Woman, and her podcast, Group Text with Melissa Rivers.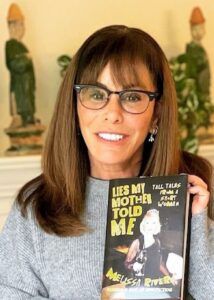 Follow Melissa on Facebook, Instagram, TikTok, and Twitter! Grab "Lies My Mother Told Me: Tall Tales from a Short Woman" from your local bookstore or HERE and check out her podcast on Apple or wherever you listen to podcasts.
She's also doing an online book signing tonight:
Tomorrow online book signing. https://t.co/PSdnEeZwvP sign up now pic.twitter.com/zloqUftQ8j

— Melissa Rivers (@MelRivers) April 24, 2022
I also can't wait to check out her latest podcast with one of my faves, Wendi McLendon-Covey!
>/center>

Feature Photo by Richard Shotwell/Invision/AP
---