CELEBRATE 'SUMMER DAYS' IN DOWNTOWN LA CROSSE THIS WEEKEND!
Downtown Mainstreet presents 'Summer Days' today and tomorrow (Friday, July 29 and Saturday, July 30). Celebrate 'Summer Days' in downtown La Crosse with sidewalk sales, discounts, live music, good food, & so much more! Bring friends and family to support small businesses and enjoy our beautiful La Crosse's historic downtown!
Saturday, July 30th (street closure on the 200 block of Main Street in downtown La Crosse) event includes:
Drift Cycle tabling
Taco Broz food truck
Food by The Crow & Dublin Square
Coulee Region Humane Society therapy dogs
Live music from Nightcap 3:00-5:00p
Live music from Erik Jorgenson 5:00-7:00p
Bring your lawn chairs, enjoy the live music performances, grab a bite to eat, and maybe even get up and dance! My acoustic band, Nightcap, was asked to perform this Saturday and we're so excited to be part of this fun event! We play a mix of 70s, 80s, 90s, 2000s; from oldies to classic rock, pop, and country! A little something for everyone.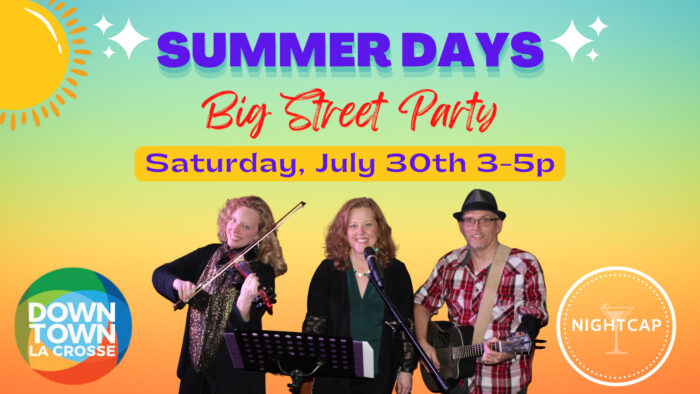 Plus, you can get involved in some fun competitions like the Selfie Scavenger Hunt.
River City Gallery and Downtown Main Street invite local artists to be on the sidewalks during 'Summer Days' to paint images of Downtown La Crosse. They'll also hold an artist reception at the River City Gallery from 4:00 – 5:30 pm. on Saturday. The art will be available for purchase through August. Learn more here.
Are you ready to Experience the best Bloody Mary's La Crosse has to offer? The experience begins Saturday, July 30 and the promotion ends September 18.
Cover Photo courtesy of Bob Good Photography
---