UNITED WE ROCK – FREE CONCERT TO KICK OFF GREAT RIVERS UNITED WAY'S ANNUAL CAMPAIGN
Written by Ballzer on September 14, 2022
Great Rivers United Way is officially kicking off its 2022-23 fundraising campaign with a FREE community concert featuring The Remainders with special guests TUGG and Tom Conrad. United We Rock is this Thursday, September 15, at Copeland Park and Events Center.
Great Rivers United Way's Fundraising Co-Chairs, Andy and Linda Temte, and GRUW Resource Development Director Katie Sparks joined Brittany and Ballzer to talk about the event:
Tom Conrad starts the show right when gates open at 5 p.m. on Thursday. Tom's talent isn't the only reason to get there early. Linda said the first 250 guests through the main gate starting at 5:00 p.m. get a swag bag of gifts from Great Rivers United Way and event sponsors. The first 100 people to arrive wearing a LIVE UNITED t-shirt will receive a ticket for one FREE drink, includes beer and non-alcoholic beverages, but excludes hard liquor.
TUGG takes the stage at 6:00 and The Remainders play from 7:00 til 9… or so 😉
Linda also shared that they help someone every 44 seconds in our community so it's an important cause to support. Katie added that GRUW's annual campaign funds 51 non-profits in the area. Last year they impacted over 32,000 people.
RSVP on Facebook for updates, and if you can't make it, you can support GRUW on their website.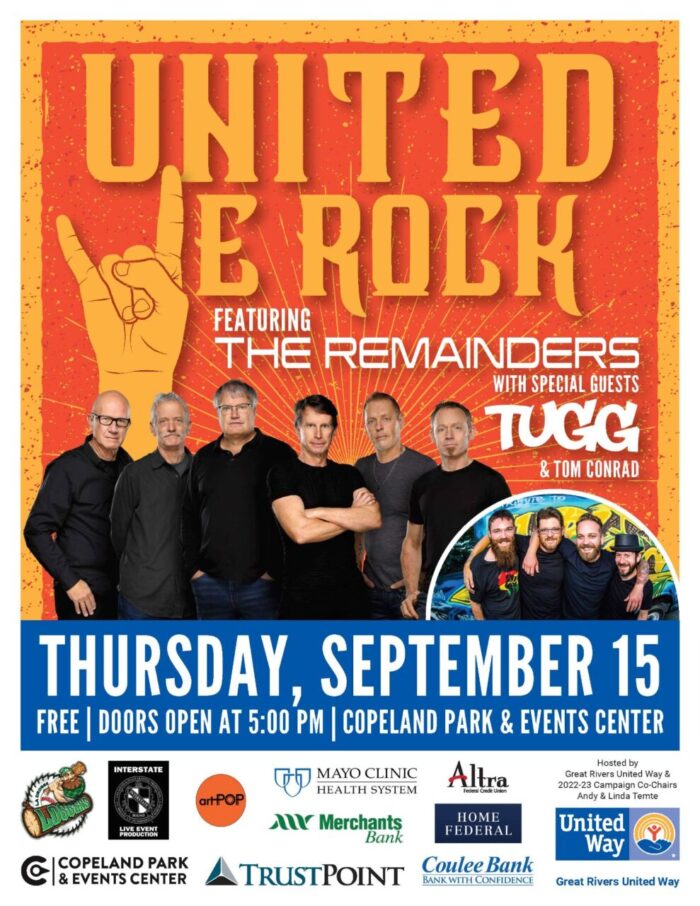 Feature image: Bob Good
---