Mid-West Family is proud to be a part of the Back 2 School program again this year! With support from River Valley Remodelers and Altra Federal Credit Union, let's help families get their students ready to head Back2School!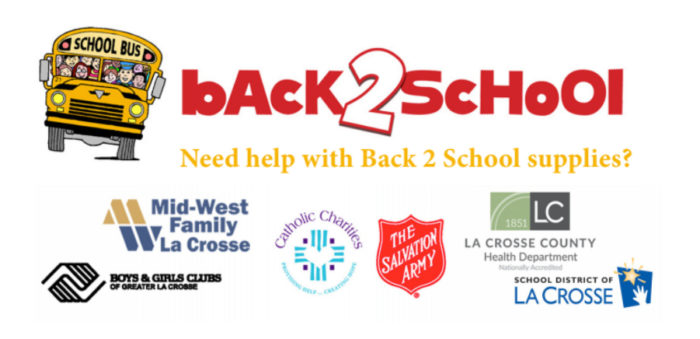 Thanks to our partners, Optical Fashions and River Valley Remodelers, we were able to donate $1,000 to support the Back 2 School program in our community!
This year they have 600 students registered, about 300 families, so they still need the community's help!
I WOULD LIKE TO JOIN IN SERVICE! HOW CAN I HELP?
Donate by visiting the Back2School Gift Registries at local businesses (Walmart, Target, etc)
Make a monetary donation so we can purchase needed supplies
Supplies can be dropped off at the Catholic Charities downtown office (508 South 5th Ave) Monday through Thursday from 9 am – 4 pm.
Purchase Scrip from your local Parish to donate for school supplies (this benefits the parish as well as the children in need)
Refer families in need to sign-up for the Back2School Program HERE.
The effort is still looking for volunteers! sign-up to receive notifications of volunteer needs. Their biggest distribution day is 8/8 at La Crosse Center. They anticipate serving 6 families every 15 minutes so lots of help is needed!
Check the Catholic Charities Facebook page for continued updates.
---