Summertime has arrived, and something I always struggle with is finding a swimsuit that fits right and doesn't break the bank! I think we can all agree shopping for swimwear isn't always fun and can be pricey. Below I rounded up my favorite swimsuits that fit in all the right places, are stylish, and won't cost an entire paycheck. Whether you're looking for a trendy bikini or a chic one-piece, there are on-trend swimsuit brands that won't break the bank. For so long, I spent so much $$ on swimsuits for vacations, but then quickly realized no matter how much I spent on a swimsuit, I still wanted new when summertime came around. It wasn't until strolling the Target swimwear aisle and finding the cutest swimsuits for under $30 that I realized I was done spending over $100 on a swimsuit. Honestly it's kind of insane how high priced swimsuits are considering there's no fabric to them!
I think we can all agree shopping for swimsuits is the worst! We all have insecurities when it comes to wearing a swimsuit because we can't hide the parts of our bodies we usually don't want to show. Find the perfect customized wear on this home page. Whether your short, curvy, skinny, or tall, we all get a little anxiety when it comes to swimsuits. It's all about picking the right swimwear for your body and feeling comfortable in it! It's about figuring out do I feel confident in a bikini, a one-piece, or maybe even high waisted bottoms? Don't worry about what others think and wear what makes you feel comfortable and confident. Trying on different swimsuits will work wonders for making you feel ready for Summertime and the pool. Always remember every body is "beach body" ready. Pick a swimsuit that makes you feel good because thats all that matters. Below I rounded up my favorite swimsuits for summer all under $30 from Amazon & Target! The best part about Amazon is most of these swimsuits are prime shipping, so they will be at your door in a couple of days! Don't forget if you have a Target Red Card, you also get free two-day shipping.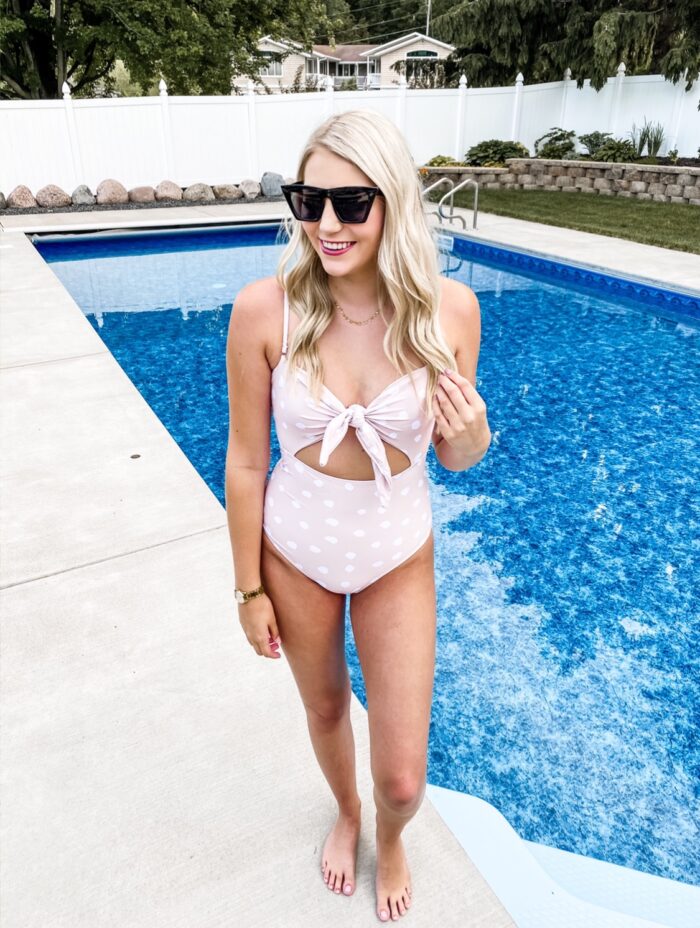 For the right mix of feminine style and comfort, you can't go wrong with this polka dot one piece for Summer! This suit is finished off with tie detail on the bust for a mix of texture and sweet style. I'm wearing a size small, and it fits perfect. It's not too cheeky and is so comfortable. You can remove the straps and make it strapless for a versatile look. The adjustable shoulder straps let you get a snug fit each time. It's only $22 and comes in thirteen different colors! I have it in the pink polka dot print, red, and the US Flag print, and I'm obsessed with them all!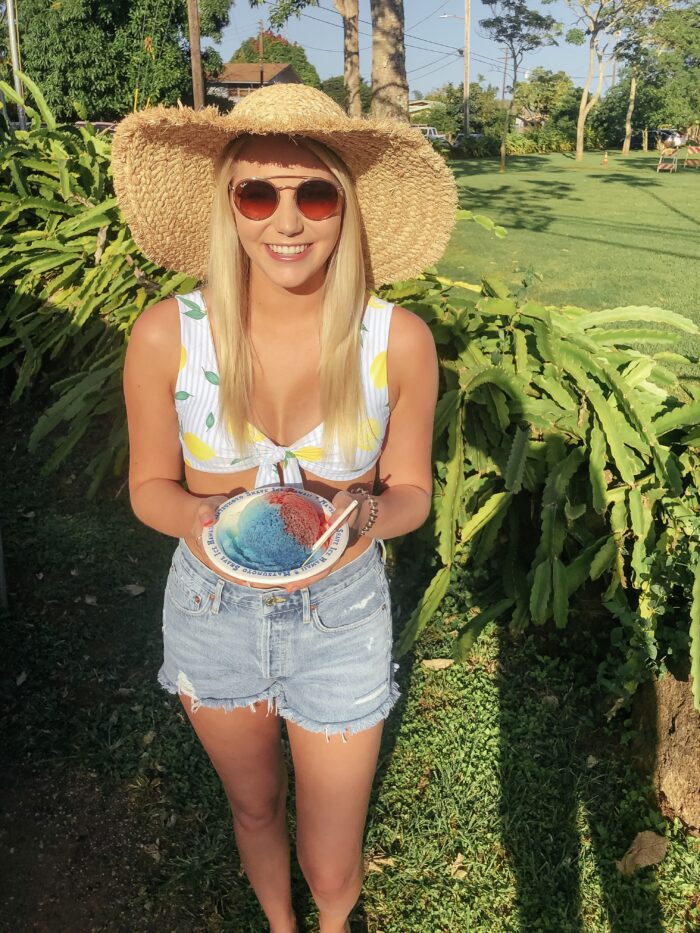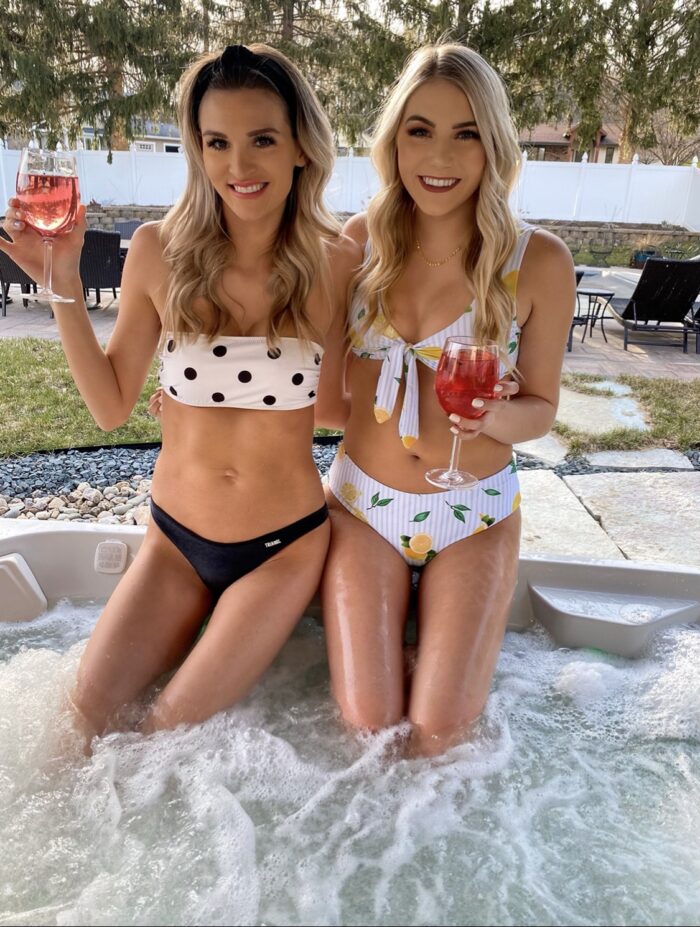 Love this cheery print of lemons in bright yellow and greens for a bright pop of color for Summertime. I can honestly say this is my favorite swimsuit of all time. It fits SO good and is high quality at an affordable price. Instead of tying your bikini behind the back, this one ties in the font. It makes it so easy to take on and off and you can adjust it to a comfortable fit. This bikini is only $20 and comes in over forty different colors and designs! This is my most worn bikini of all time. I'm wearing a size small, and it fits perfect. I love how the bottoms aren't too cheeky and the best part is you can find this suit on Amazon Prime!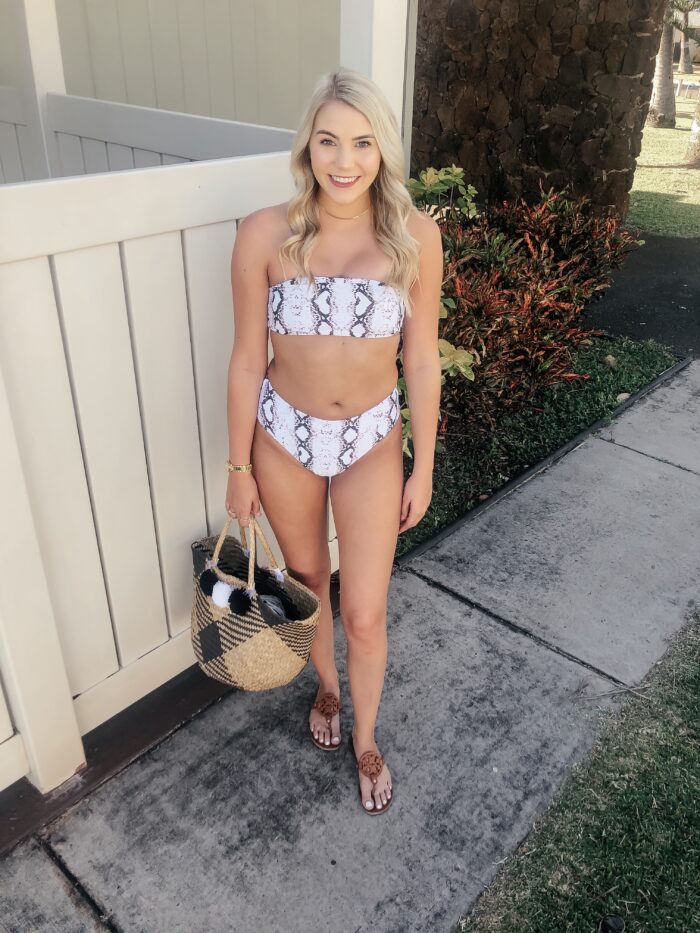 Keep it fresh and stylish this summer with this snakeskin bandeau top and high waisted bottoms! A black and white color palette gives this bandeau top a versatile look for endless styling possibilities! This suit is perfect when you want to get rid of those unwanted tan lines. The best part about this bandeau top is it's very stretchy. I wear a 32A, and my sister wears a 32D and the small fits us both perfectly. I love the high waisted bottoms because they fit so comfortably. This suit is $27 on Amazon Prime and comes in over thirty colors and designs.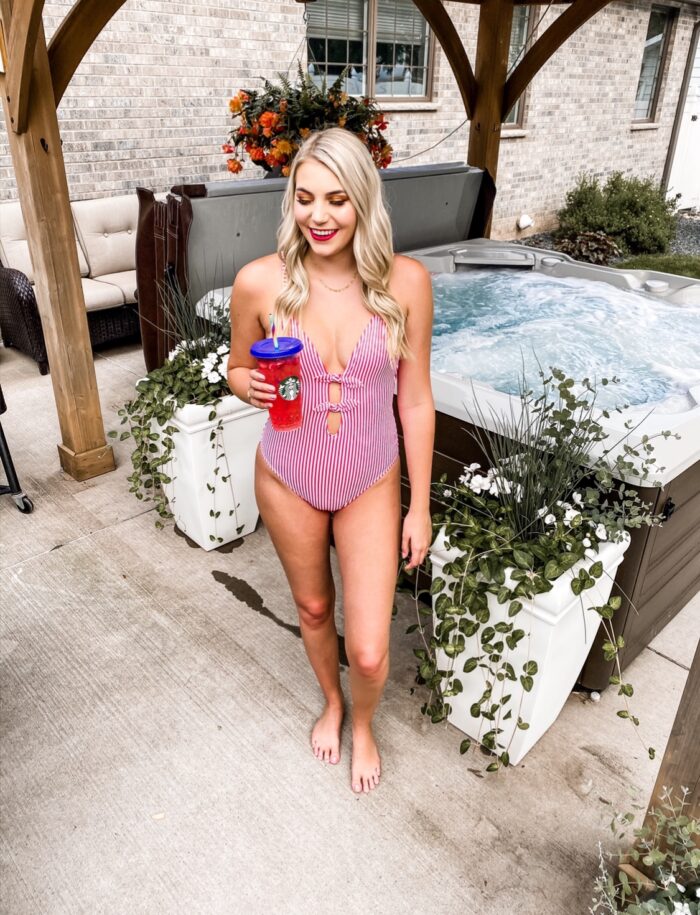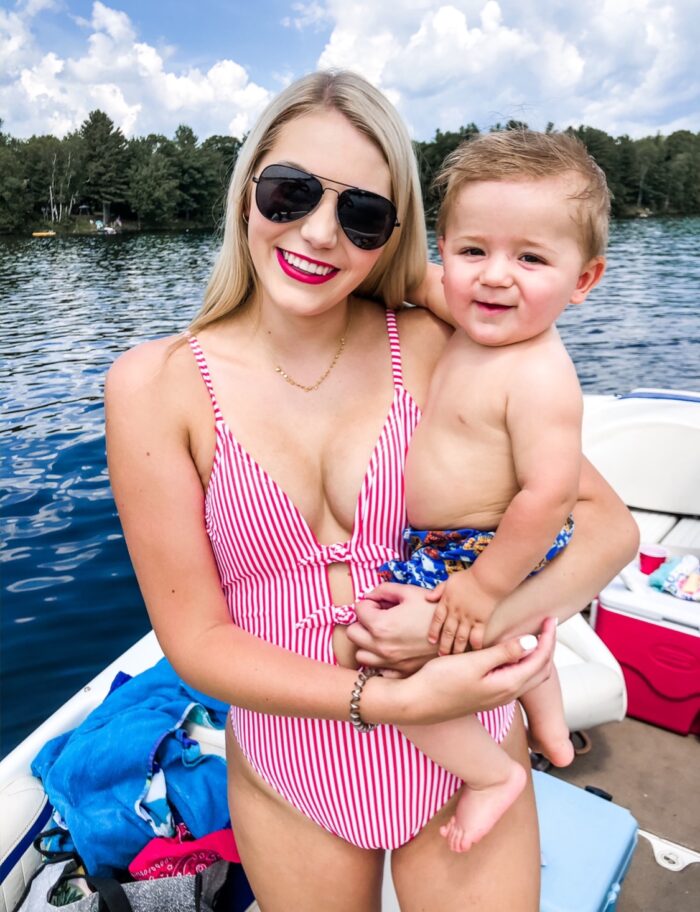 This striped one-piece is another one of my most worn swimsuits! I love the charming style of the bows between the plunging neckline! The plunging neckline spices up the piece and adds something unique. If you're like me and have a smaller chest this swimsuit is perfect. Tops with intricate designs will give the illusion of a larger chest! Trust me, ladies, I could use all the help I can get🤣 Wearing a size small, and it fits true to size. This one-piece is $30 from Target. If you haven't checked out Target's swimsuits yet, you need to because they're SO cute!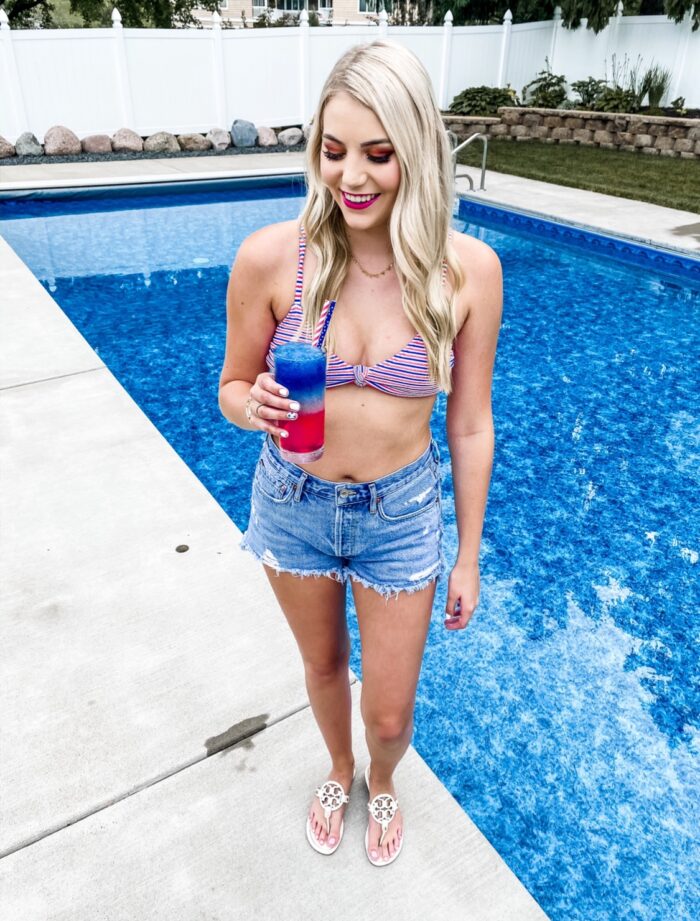 This striped front knot top is from Target and was perfect for the 4th! Love the red, white, and a blue bikini top for a charming patriotic flair! I picked this suit up in-store at Target just in time for the 4th of July! A knitted accent at the center of the bust adds a little detail to the suit. Im wearing a size small and it fits so comfortably. This bikini top was $18 from Target.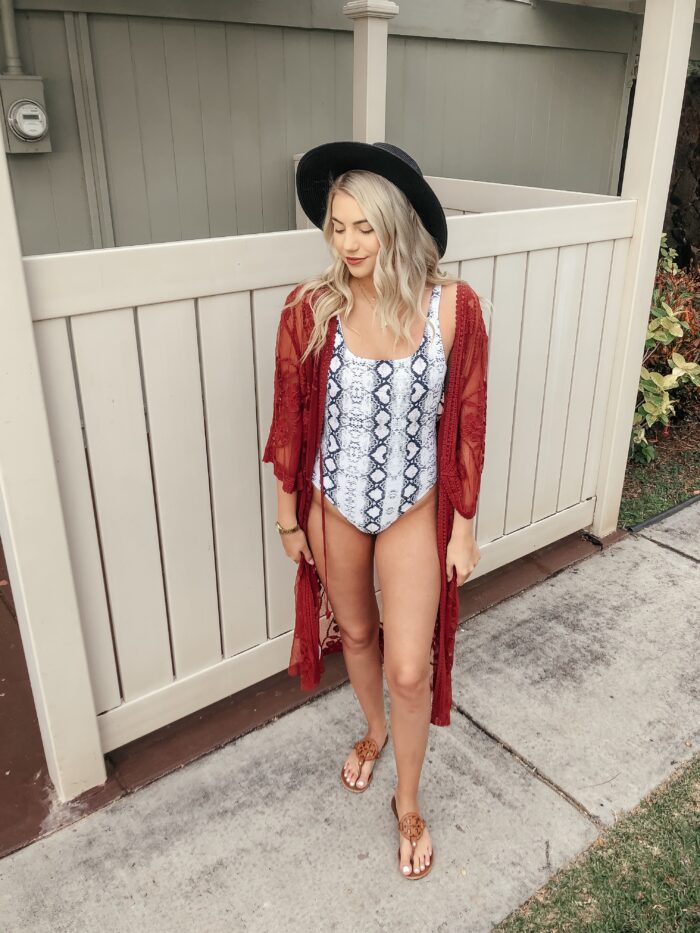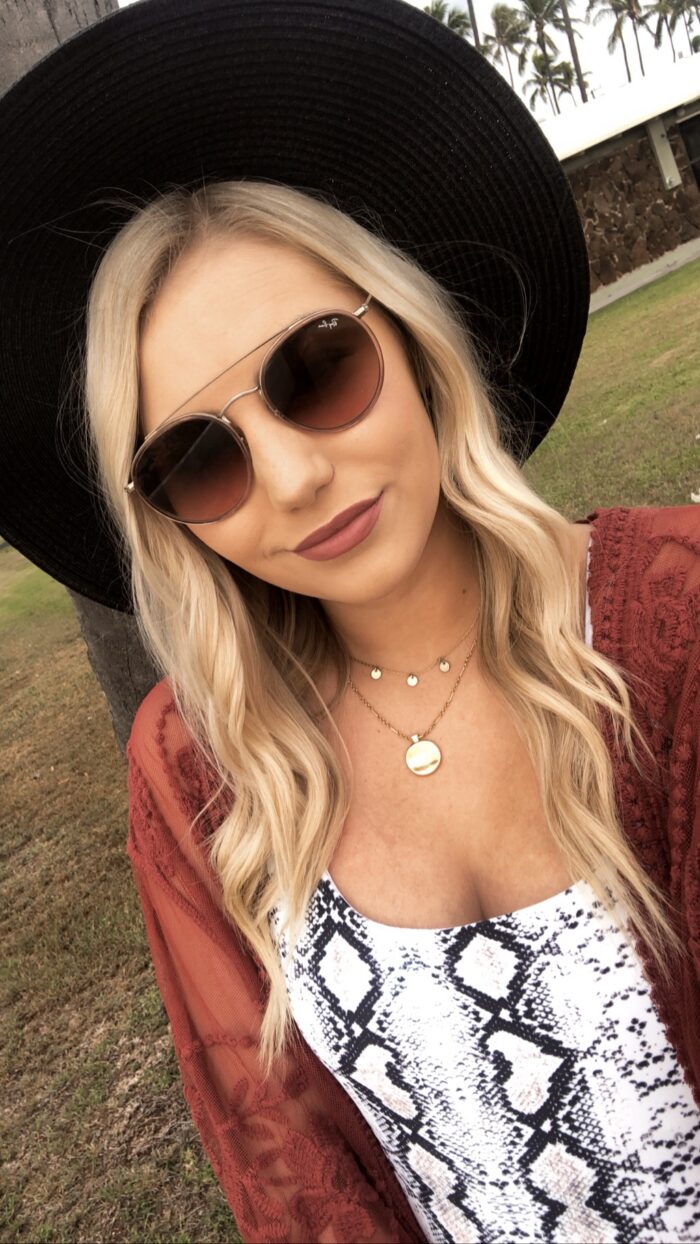 As you guys can tell, I absolutely love snakeskin🐍 This suit is perfect for a more conservative fit! I paired this suit with a lace kimono and hat while on vacation in Hawaii! This snake skin suit is $27 on Amazon and comes in over twenty different designs. I would defiantly recommend this suit for a supportive fit! Wearing a size small, but love how this has a little stretch to it.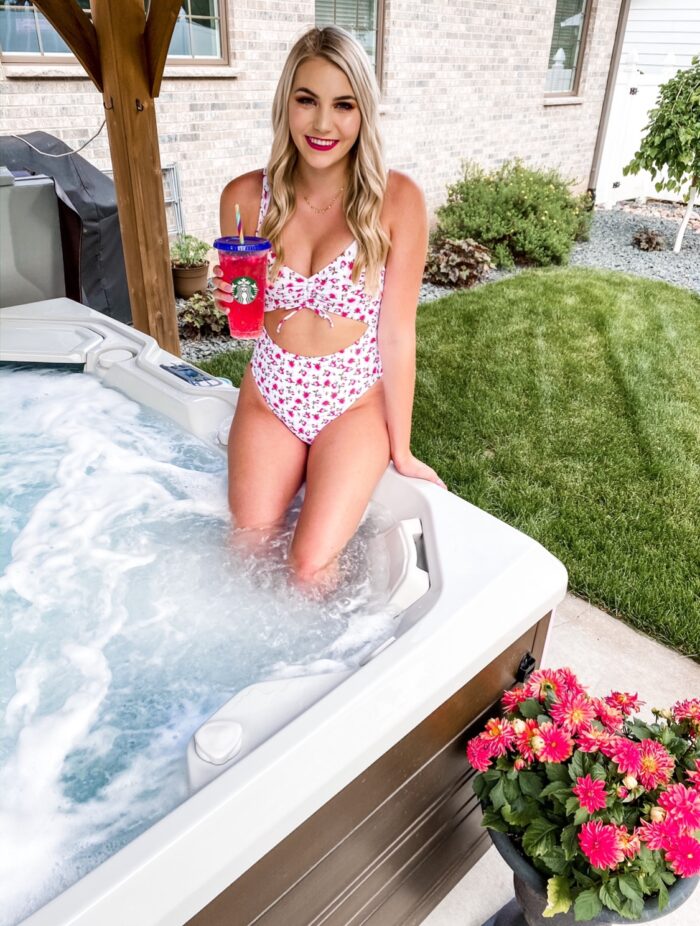 Step into summer with this pretty floral print one piece. How pretty are the tiny red floral blooms to brighten up your Summer days? I love the front cutout and dramatic opening in the back for a touch of flirty-flare! Love that this swimsuit has removable cups for customizable coverage in the chest! I'm wearing a size small, but this suit fits a little snugger, so I recommend sizing up! This suit is $35 at Target and fully in stock.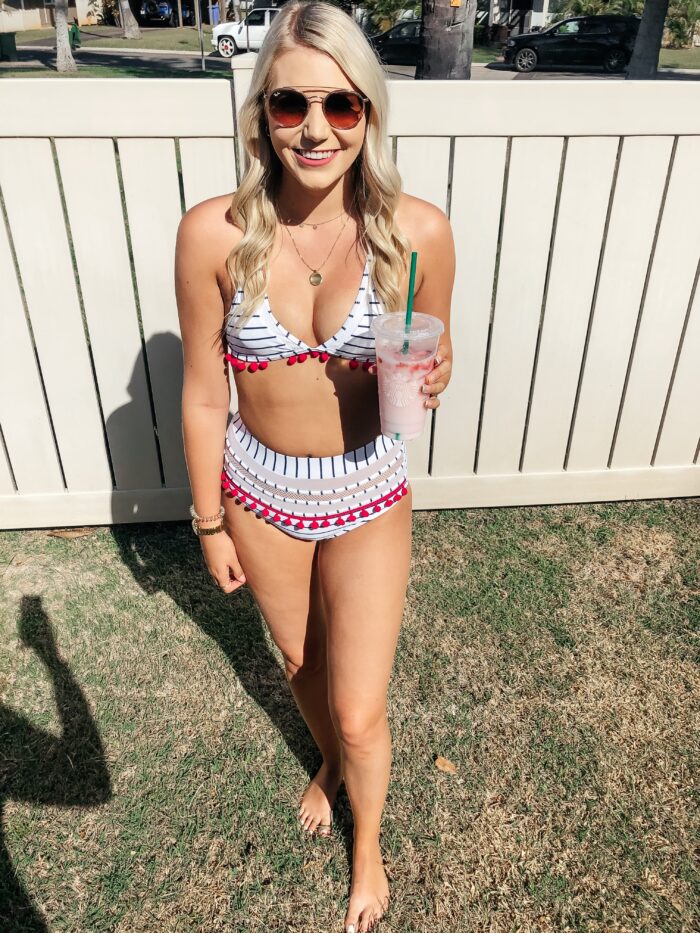 How fun is this tassel swimsuit in a stunning high waited bikini? All eyes will be on you with this dreamy striped print bikini, whether you're sipping a cocktail poolside or waking the beach! This suit is $30, fantastic quality, and comes in eight different colors! I ordered a size small, and it fits snug, so if you're in between sizes order up!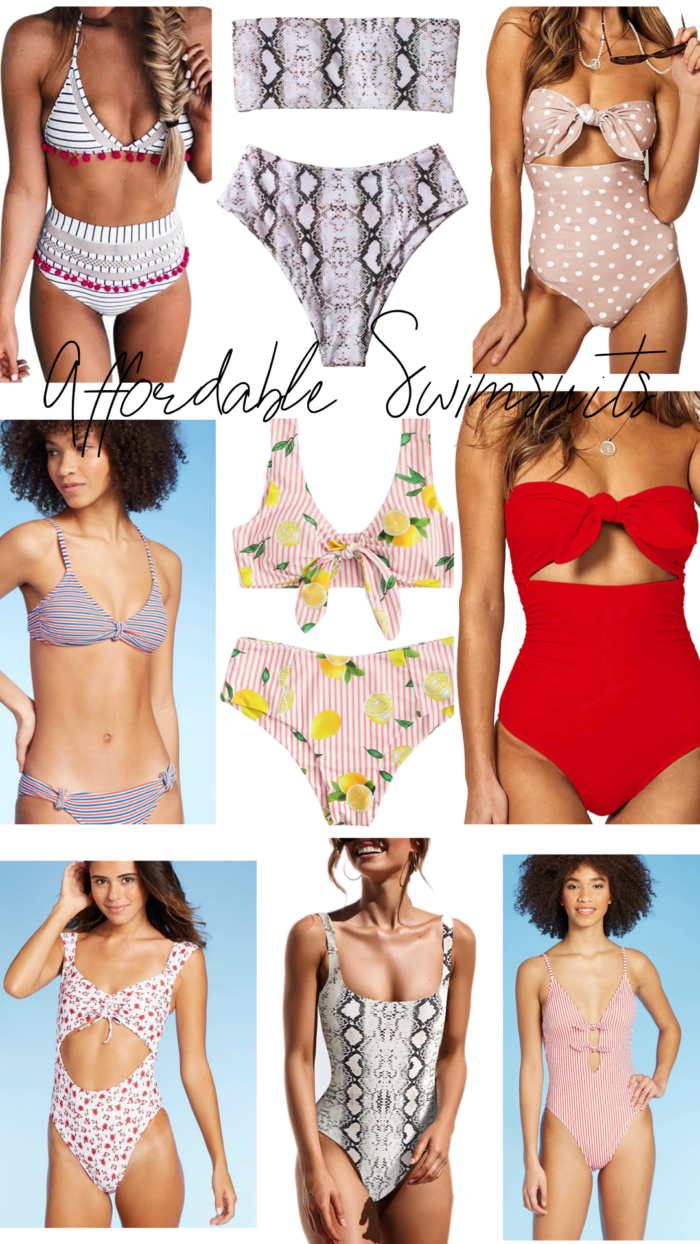 Head to https://www.liketoknow.it/boldlipsandblondehair to shop my affordable swimsuits! Hope you all had an amazing 4th Of July weekend with family and friends! XOXO -Kaylee
---