HORSESENSE'S DRIVE-THRU FALL HARVEST FESTIVAL IS THIS SATURDAY!
Written by Ballzer on October 7, 2021
HorseSense's 4th annual Fall Harvest Festival is this Saturday from 10 a.m. to noon! Join them at their headquarters, located at W4102 Ober Road in Coon Valley, WI.
They're inviting the public to drive through their 40-acre farm this year instead of gathering together in person for a safer alternative to the fall-themed event.
We chatted with Sammi Hall, Executive Director of HorseSense, to find out more about the event!
HorseSense's therapy horses will be stationed alongside the driveway and guests are encouraged
to say hello to their favorite horse from the safety of their vehicle.
Drive Thru BINGO and other fun activities will be available for children to play as they navigate throughout the property, and a 50/50 cash raffle will also take place. Custom-made cupcakes and HorseSense merch will also be available for sale.
Music made possible by Fall Harvest Festival Media Sponsor Mid-West Family La Crosse will be playing throughout the event.
Guests are encouraged to bring cash with them to purchase raffle tickets and cupcakes at the event.
Cupcakes are available to buy for $3 each or two for $5. Cash raffle tickets are available for $10 each.
The 50/50 cash raffle drawing will take place following the event at 12:30 p.m. at HorseSense, but
participants can tune in live on Facebook instead to watch the drawing online; you do not have to be
present to win.
If you're not able to attend the event, but still able to donate, you can do so at their website.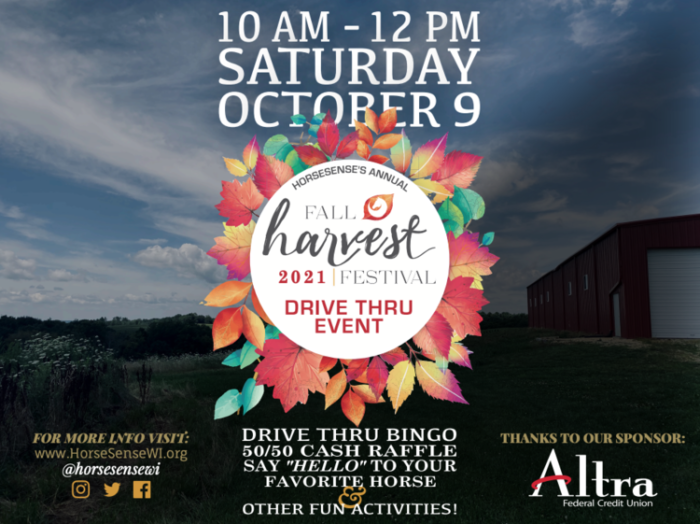 Feature Image Photo credit: Shiloh Rose Photo + Film
---