Z93'S SEASON OF GIVING WITH DAIRYLAND POWER
Join us in celebrating the spirit of the holidays, and support those in need, with Dairyland Power and Your Local Touchstone Energy Cooperatives. Five local charity organizations will each be presented with a $500 donation this holiday season.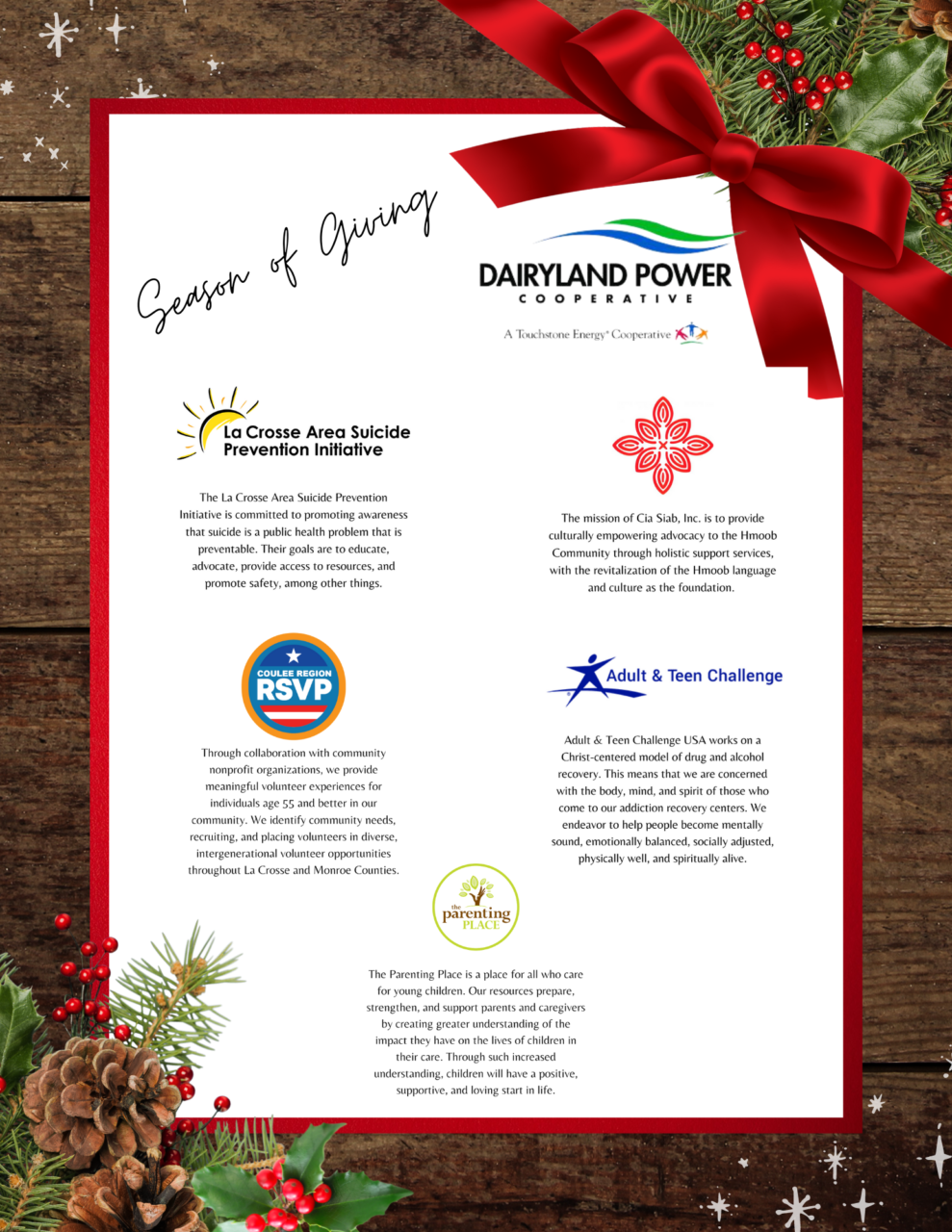 The La Crosse Area Suicide Prevention Initiative is committed to promoting awareness that suicide is a public health problem that is preventable. Their goals are to educate, advocate, provide access to resources, and promote safety, among other things. We spoke with The La Crosse Area Suicide Prevention Initiative Board Member, Deb Mahr, about the organization and her family's connection to the cause. And also made a $500 donation. Click here to hear that interview, and to learn more.
Adult & Teen Challenge Western Wisconsin works on a Christ-centered model of drug and alcohol recovery. This means that we are concerned with the body, mind, and spirit of those who come to our addiction recovery centers. They endeavor to help people become mentally sound, emotionally balanced, socially adjusted, physically well, and spiritually alive. The Morning Buzz caught up with Executive Director, Kevin Schaler, to hear about ATCWW and make the $500 Season of Giving donation. Click here to hear the interview and grab more info about the organization and how it came to La Crosse.
The mission of Cia Siab, Inc. is to provide culturally empowering advocacy to the Hmoob Community through holistic support services, with the revitalization of the Hmoob language and culture as the foundation. Click HERE to learn more and hear our interview with Executive Director, Dr. Xong Xiong.
Through collaboration with community nonprofit organizations, Coulee Region RSVP provides meaningful volunteer experiences for individuals age 55 and better in our community. We identify community needs, recruiting, and placing volunteers in diverse, intergenerational volunteer opportunities throughout La Crosse and Monroe Counties. Learn more about the organization and hear from RSVP Administrator, Rebecca Brueggeman, HERE.
The Parenting Place is a place for all who care for young children. Our resources prepare, strengthen, and support parents and caregivers by creating greater understanding of the impact they have on the lives of children in their care. Through such increased understanding, children will have a positive, supportive, and loving start in life. Learn more about them and hear from Executive Director Jodi Widuch HERE.
---