Grace Thornton-Clark
Written by Ballzer on March 11, 2019
WEEK OF MARCH 11, 2019
Grace Thornton-Clark is an outstanding student at Onalaska Middle School. Grace plays competitive soccer year around for Rush Wisconsin West, and she plays basketball for Onalaska Middle School. Grace also stays active with her Youth Group at Bethany Evangelical Church.
Grace also has a hunting Mentor from Kicking Bear and is a hunter throughout the year. She got her first Turkey last Spring.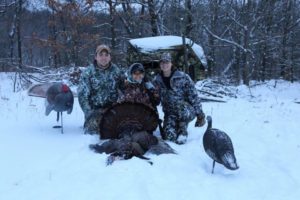 She also runs a business locally known to many in the community: Grace's Pet Waste Removal.
Grace has been very successful and many business owners in the area utilize her service. Every weekend rain or snow she is in these homes, often with her mom and sister and brother , making a difference at age 13. Her next step is to take online payment and grow her business to hire a few friends named "Grace" to take on some of her jobs.  
---