PADA YANG
Written by Ballzer on December 2, 2019
WEEK OF DECEMBER 2, 2019
Pada Yang is a senior at Holmen High School. Pada is hard working, a great friend, a wonderful baby sister, a lovely Aunty, a responsible daughter, and a leader in school and in her community. Pada enjoys school and is on the High Honor Roll, National Honors Society, and Leadership Group. Pada's school schedule is vigorously packed and includes college level courses. Pada hopes to pursue a post high school education and aspires to become a pediatrician.
Pada is also very involved in her community and enjoys volunteering and giving back to those in need. Every holiday season, Pada participates in the Red Kettle Campaign and rings bells for the Salvation Army. Pada also participated in the 2019 Neighbors day and has spent time handing out food at WAFER food pantry.
Most recently, Pada organized a diaper drive all on her own and partnered up with several businesses and agencies in town including La Crosse County Human Services and Holmen Rotary Club.
During Pada's free time, she enjoys playing different sports, hanging out with friends and family, and working her part time job. Pada has been on the Holmen Varisty Girl's Soccer team since her freshman year. In the past, Pada has been a year round athlete participating in Girl's tennis, basketball, and power lifting. Pada also enjoys playing volleyball and hunting.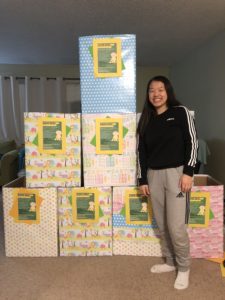 ---