ISSAC DEASON
Written by Ballzer on December 7, 2020
WEEK OF DECEMBER 7, 2020
Issac Deason is a sophomore at Logan High School. Issac is doing very well during virtual learning, with A's and B's in all his classes. Issac was student of the month for September at Logan. He works very hard keeping his grades up and is a very caring kid. Issac enjoys hiking and working. Issac is 15 and also employed at Green Circle recycling. He works 4pm to 10pm after school to help his family out.
Here's Issac with his Life Saving Award from La Crosse Fire Department for saving a 5 year old from drowning in the river this summer. He's an amazing kid!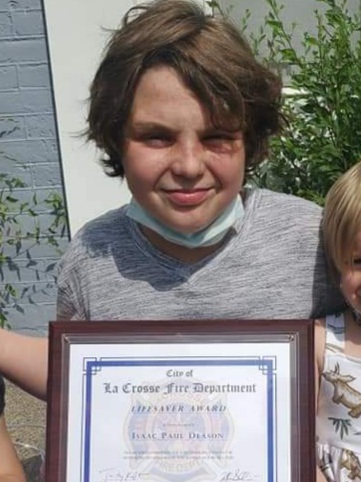 Z93 and 1st Community Credit Union celebrate students doing awesome things through Z93's Student of the Week! We recognize their achievements for an entire week on Z93 with 1st Community Credit Union: Strong Students, Strong Communities.
Nominate your star student by sending an email (including their name, grade, school, and any information about the great things they're doing! Also include a high resolution photo) to student@z933.com

---