BACK TO SCHOOL SNACKS WITH CHEF, BEN GULLETT
Getting into the swing of things after summer break can be tough for the whole family. Chef, and food enthusiast, Ben Gullett shared some ideas for easy back to school snacks! Check out our fun, and hilarious as always, video chat with Ben and see him make a couple of recipes!
Barney Butter Strawberry Sandwich
Ingredients
● 2 slices bread any kind
● 1 tbsp cream cheese
● 2 tbsp Smooth Barney Butter
● ½ cup sliced strawberries
● 1 tsp of Honey
Directions:
1. Combine honey, Barney Butter and cream cheese in a small mixing bowl.
2. Spread half the mixture on each slice of bread.
3. Top one slice of bread with an even layer of strawberries and then add the top slice. Cut into fours – Enjoy!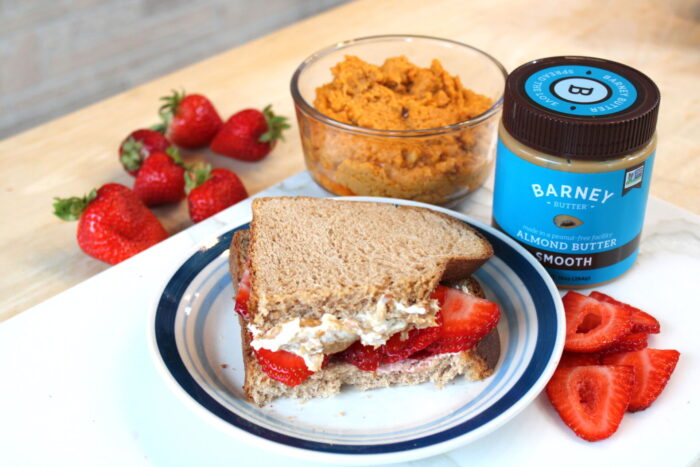 Spicy Barney Butter Hummus
Ingredients:
● 1 tablespoon Red Curry Paste from Thai Kitchen
● 2 tablespoon Barney Butter Bare Smooth Almond Butter
● 1 can chickpeas, drained and rinsed
● 2 cloves garlic
● 1/4 cup olive oil
● Pinch cayenne pepper
● Salt and pepper to taste
● For added spice, top with a pinch of chili flakes
Directions:
1. Place all your ingredients in a food processor and blend until smooth.
2. Add spices as you need.
3. Top with chili flakes, freshly chopped cilantro and a drizzle of olive oil.
4. Serve with veggies or crackers.
You can find Find Raybern's at Festival Foods and Barney Butter at Festival Foods & Walmart
---