FREE COMMUNITY JUNETEENTH CELEBRATION THIS SATURDAY
Written by Ballzer on June 17, 2022
La Crosse's annual Juneteenth celebration aims to unite all members of the community in celebration of Black Americans.
The festival is put on by volunteers, donors, and local nonprofits Black Leaders Acquiring Collective Knowledge, Hope ReStores, Enduring Families Project, and Black Student Leaders.
This year's celebration is Saturday, noon – 8 p.m. in La Crosse's Riverside Park. There will be fun for the whole family, food, entertainment, history, education and connection with our neighbors. We caught up with Chaya and Mia Davis from Black Students Leaders to learn more about their organization and tomorrow's event: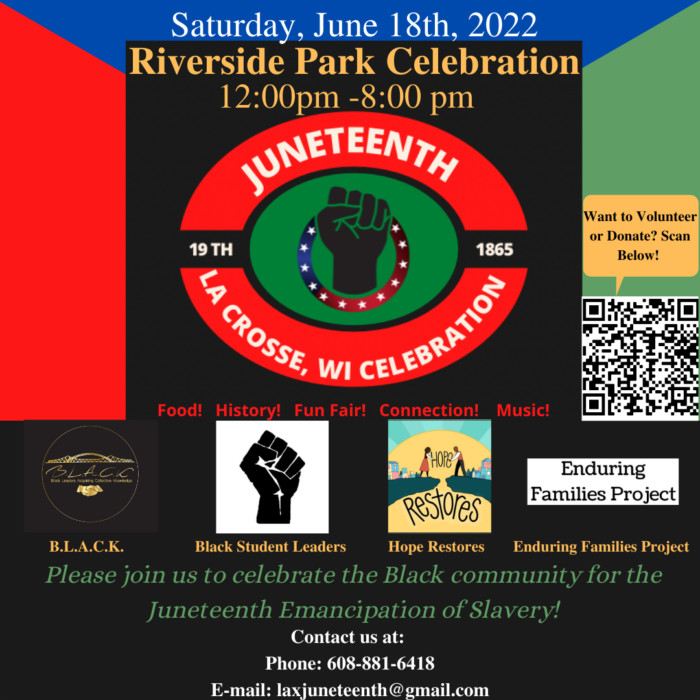 This will also be the first big outing for Mia's Kitchen, a business run by the high school student. BSL will have its famous Birria Tacos for sale, as well along with other local food vendors — Press Break, Smashhtyme Southern Kitchen, and Triplett Bar-B-Que. There will be a limited number of free food vouchers, while they last, starting at noon.
There's fun for the whole family with an expanded Youth Fun Fair, including a bounce house, train rides, water fights, snow cones, cotton candy, and more for the kids.
Local musicians Guess Pre and The Mayfield Experience are taking the stage, Hypnotist Chris Jones will entertain, there will be a hip-hop dance battle, and the GRAMMY Nominated group, Jabali Afrika, from Kenya is also performing at this Saturday's event.
Follow the Juneteenth Celebration on Facebook for updates HERE.
La Crosse's Juneteenth Celebration Schedule:
Interactive Organization Booth and Business tables noon -5:00 p.m.
Youth Fun Fair 12:30 p.m.- 4 p.m.
Enduring Families Project:
Downtown Self-Guided Walking Tour 2 p.m.- 4 p.m.
Trolley Tour 2 p.m. and 3 p.m.
Main Stage
12:05 p.m. Land Recognition- Elizabeth Digby-Britten
12:10 p.m. Lift Every Voice and Sing- Lakisha Hudson
12:15 p.m. Welcome
12:30 p.m. DJ introduction
12: 40 p.m. Enduring Families Project
12:50 p.m. Introduction of Juneteenth Court
1 p.m. Jabali Afrika
1:30 p.m. Yoga Class by Palm and Pine
2: 25 p.m. DJ Music
2:30 p.m. Hope Restores Scholarship
2:45 p.m. Speaker- Dr. Adam R. Driscoll, UW-L Professor
3:00 p.m. Greg Stanton (Guess Pre)
3:30 p.m. Mayfield Experience
4 p.m.- I & E Dance competition
5 p.m.- Chris Jones
6 p.m.- DJ Music
6:15 p.m.- Lyve Wyrez Performance
7 p.m.- DJ Music / Open Mic
In 2020, we helped put on an audio tour to bring more attention to La Crosse's rich history for the social-distanced Juneteenth celebration. Actors were stationed in costume at the historic locations and you can still check it out HERE if you haven't heard it yet.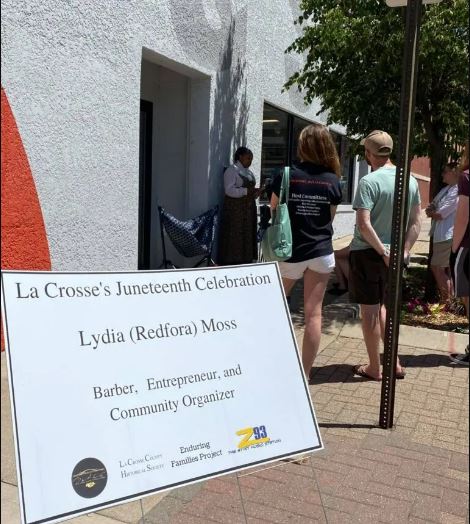 ---