Z93 MORNING BUZZ HOLIDAY COCKTAIL RECIPES
Written by Brittany Styles on December 11, 2020
Brittany's Favorite Recipes
Cranberry Old Fashioned
This is Martha Stewart's recipe! Martha knows booze and this is a good one!
Ingredients:
8 fresh or frozen cranberries
2 teaspoons sugar
2 dashes of Angostura bitters
1 strip (2 inches) orange zest
1 tablespoon water
2 ounces bourbon
Directions:
Muddle cranberries, sugar, bitters, and orange zest with water in a medium glass until sugar dissolves. Pour in bourbon. Add ice cubes.
Brandy Slush- Frozen Drink
This is something my hubby likes to make for the holidays, and this is the recipe he uses (it's delicious)!
Ingredients:
7 cups water & 2 cups sugar – boil & cool
2 cups water & 4 bags of tea – boil & cool
1- 12 oz. can lemonade
1- 12 oz can orange juice
2 cups brandy
Directions:
Mix all ingredients, put in container & freeze.
Keep in freezer, stir before using.
Use half glass of slush & mix in either 50/50, 7up, Coke, Or Squirt (depends on your personal taste)
Ballzer's Favorite Recipes
Coquito
This thick and creamy Coquito recipe is a Puerto Rican tradition!
Ingredients:
4 oz raisins
1 1/2 cups dark rum
2 cinnamon sticks
1 (14 oz) can sweetened condensed milk
1 (15 oz) can cream of coconut (Coco Lopez)
1 (13.5 oz) can coconut milk
4 oz evaporated milk
1/2 teaspoon nutmeg
1/2 teaspoon ground cinnamon
1/2 teaspoon vanilla extract
4 tablespoons shredded coconut, optional
Directions:
In a large pitcher with a lid (or two large jars with lids – this will make about 56 oz of liquid) add raisins, dark rum and cinnamon sticks. Let sit for 1 hour.
In a blender, puree all the other ingredients. Pour into the bottle and shake well to combine with rum/raisins mixture.
Chill for at least 4 hours and store in airtight container in refrigerator for up a month..
You have to shake vigorously before pouring.
Boozy Grinch Punch
Boozy Grinch Punch is perfect for the large gathering you're not having this year (thanks Covid). But something for you to try in the future, or just make a smaller batch!
Ingredients:
1 (0.13-oz.) packet Kool-Aid Lemon Lime mix
4 cups water
4 cups ice
3 cups lemon-lime soda
2 cups pineapple juice
2 cups vodka
1 cups ginger ale
Lime wedges, for rimming
Red sanding sugar, for rimming
Directions:
In a large pitcher combine Kool-Aid and water.
In a large punch bowl, combine ice, kool-aid, soda, pineapple juice, vodka, and ginger ale.
Use a lime wedge to rim glasses and dip in sanding sugar to coat. Pour punch into glasses to serve.
We had a chat with our night guy, Grant, about his favorite holiday cocktails! He had a lot to say about the subject!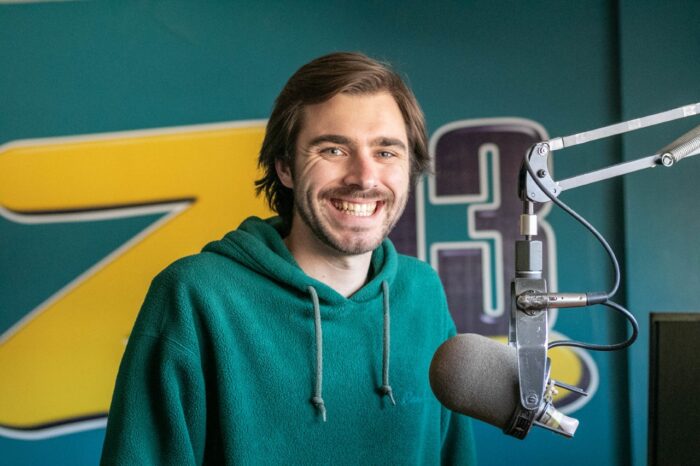 ---